It's officially summer, but someone hasn't told the Irish weather yet! (Although it is actually closer to a typical summer to have sunshine, clouds and showers than it is to have bright sunshine). (And it's also typical for an Irish person to mention the weather nice and early in any correspondence!)
As I mentioned in my last post, I have been working on an Aran or heavy worsted weight version of the Beirt Beanie, which I previously had available in double-knitting weight. It is finally ready for test-knitting - I just announced the call on social media, so you are definitely in time if you are interested in participating.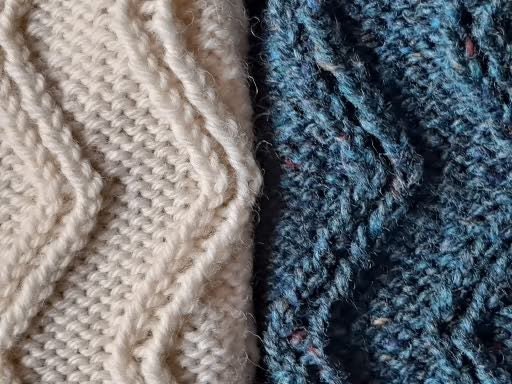 I knit the hats pictured in Donegal Yarns Soft Donegal, and Aran Tweed, Brooklyn Tweed Shelter, and Quince & Co. Lark. Any Aran or heavy worsted weight yarn should work well with the pattern, and it is a one-skein knit for the yarns mentioned. The beanie is knit in the round, on two sizes of circular needle (4.5mm and 5mm, or US 7 & 8). I re-worked the crown from the previous pattern three times in total, but I am quite pleased with the final version. I had a little vote on my social media platforms as to which (of two versions) to go for, but I think I'll provide both versions to my newsletter subscribers in the future. Please feel free to sign up to my newsletter at the bottom of the page - it comes out once a month, and is not too long! I always add a few extra things to the newsletter, so it is a great way to get a little extra content!
I've continued to make a few knitting tutorials on Instagram Reels and on TikTok; the latest ones were on weaving in the end of a top-down sweater, and weaving in the end of a hat. I will keep adding to these as I go along - although my cat is doing her best, in various ways, to stop me!!
I hope you have a restful summer - it can be difficult with so much turmoil in the world, but we all need to recharge from time to time in order to face the world with good grace.